We're re-launching our Apple Watch App along with its Gesture Recognition features in Beta! This article is dedicated to helping you guys get involved with the Beta App.
We have temporarily removed Gesture Recognition/Apple Watch features from the official Lumos App as we were working on improving the experience for our customers. The previous implementation of the App and its features came with a slew of issues that were related to its main functionality. E.G: Inconsistency with the turn signals activating when a gesture has been made.
We have since refined it to make it easier for users to consistently and correctly show turn signals. We are very excited to show our progress and have our users give us feedback on their experience too. That being said, it's currently only in beta as it is still a work in progress and internally we have identified some improvements that can be made.
You are also highly encouraged to chat with us on Discord to share your experience in the app-beta-testing channel:
https://discord.gg/w9MJNBCkqE
How to activate Apple Watch turn signal gestures?
How to get the Lumos App on Apple Watch - Ensure that you have the LumosWatch installed by checking the Watch App on your iPhone: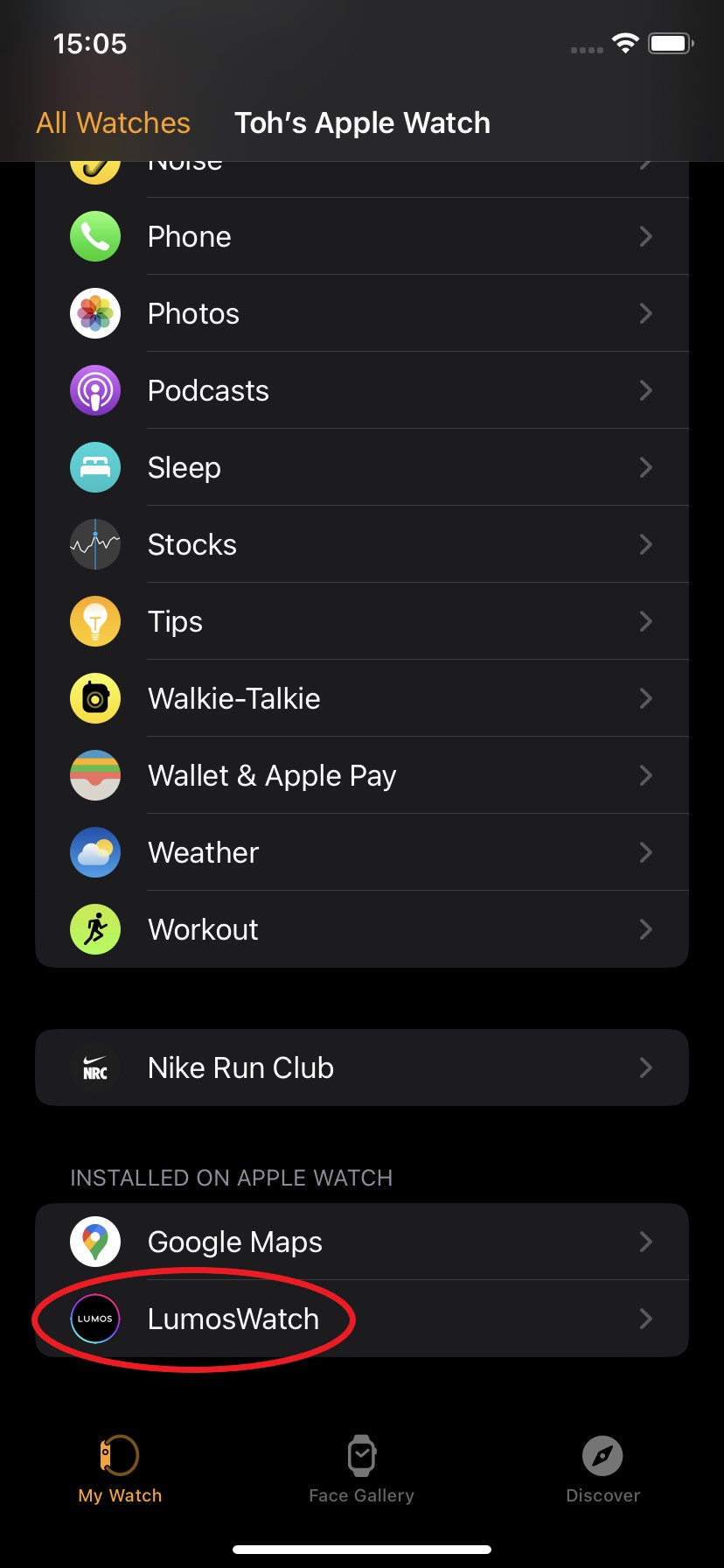 If you wear the Apple Watch on your left hand:
If you wear the Apple Watch on your right hand:
Currently, our gesture recognition feature only works with Apple Watch. It is compatible with series 1 and above; provided you run watchOS version 9 or above.
There are no plans to change this in the near future as there are too many variations between every single Android Wear device, and none of them have the same market share as the Apple Watch. Unfortunately, at our team's current size, it simply isn't feasible to work on expanding the gesture recognition feature to other smartwatches.
Variations:
Does the Lumos Helmet work with Samsung smartwatches?

Does the Lumos Helmet work with Garmin watches?