How do I register for the warranty?
Click here to register your Lumos for warranty and select your option from the droplist.
If you purchased your helmet or pre-ordered it from our website (lumoshelmet.co), select Lumos Official Website.
If you purchased it from our Amazon store ("sold by Lumos Bike Helmet/Lumen Labs), select Lumos Official Amazon Store.
If, however, it was purchased from Amazon but not from our store or from an Apple Store, any authorized resellers, or from our Kickstarter/Indiegogo campaign, select Others.
How do I find my order number?
1. Ordered from lumoshelmet.co
Your order number is sent to you via email after your order has been confirmed. The prefix (US, UK, EU, World) is part of your order number. The format of a pre-order is #xxxx. There are no spaces.
E.g. For the order number in the image below, it's World#12775, not World # 12775, #12775, or any other entry.
2. Ordered on Amazon with Lumos or Lumen Labs as a seller
Your order number is sent to you when your order is confirmed in an automated email. Your Amazon order number will have the following format: 111-1111111-1111111.
3. Ordered at a retail store or Amazon with NOT Lumos, Lumos Bike Helmet, or Lumen Labs as the seller
You will not need to fill in your order number, instead, your receipt is required. Please make sure to fill in the store's name under 'Where did you buy your Lumos Helmet?'.
How do I find the serial number of my helmet?
You'll find it inside a white sticker inside your helmet toward the rear. It should look something like this:
It says the (last) name and order number don't match!
1. Ordered on lumoshelmet.co
Please be sure that the order number and your last name are typed out the same way as it was entered into your account (on our website/our official Amazon store). To find this, you can look at your invoice/shipping receipt we sent you via email to make sure they are the same.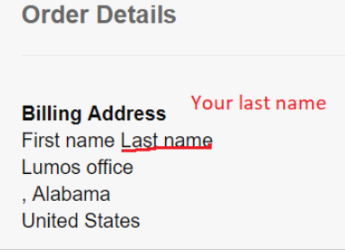 2. Ordered on Amazon with Lumos or Lumen Labs as the seller

You will have to fill in the complete name as mentioned in your order. Your order number and full name should match to be able to proceed.

My helmet was a gift. I don't know the order number.
If you aren't able to reach out to the gifter or perhaps you're not able to procure a receipt/confirmation email, please do reach out to our customer support team and provide us with any sort of relevant info (gifter's name/email address); We'll be able to look it up for you and register it from our end!
If there are any other issues with the warranty registration process, please also feel free to email us at support@lumoshelmet.co.

*If you have sent an email to our Support Team, kindly ensure to also check your spam/junk folder for our reply, just in case it winds up there.
Related searches:
I can't register my helmet
I can't register my warranty
I can't fill in my warranty
I don't have a receipt! What now?!