Both 'Lumos Remote' and 'Remote Lite' will activate the turn signals on your helmet.
The Remote Lite comes with a replaceable 3V Lithium battery CR2032 included, while the Lumos Remote has a chargeable battery and can be charged with the Lumos magnetic charging cable.
The Remote Lite will be attached to your handlebars directly, whereas the Lumos Remote comes with a quick-release mount that can be attached to your handlebar for easy installation of the remote.
Compatibility
All Lumos remotes are compatible with all Lumos helmets. It's also good to know that you can pair up to two remotes with one helmet.
Unlock the automatic warning light feature
Whether you'll be able to use the Automatic Brake Lights feature depends on the remote you use. The Kickstart Lite and Ultra come standard with the Remote Lite. With this remote, you cannot activate the Automatic Brake Lights feature. If you wish to unlock the Automatic Warning Light feature, then you will need to purchase the Lumos Remote separately from our website. The Lumos Remote has a built-in accelerometer required to activate the automatic warning lights on your helmet.

The following helmets come standard with the Lumos Remote (and thus automatic warning lights): Kickstart, Matrix, Street.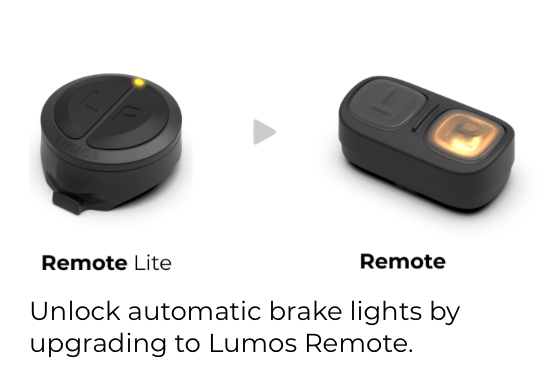 The photo is for reference only.

Related searches:
Automatic / Brake light / Warning light


Remote lite / Lumos Remote / Remote