The Automatic Brake Light feature is an optional add-on for your Ultra helmet. There are several reasons why the brake lights may not be working:
1. The automatic brake light feature is not activated
By default, your helmet arrives with the automatic brake light feature turned off. This article explains how you can activate the automatic brake light feature.


2. You are using the Remote Lite
Your Ultra helmet comes standard with the Remote Lite. To activate the automatic brake light feature, you will need to upgrade to the Lumos Remote which has a built-in accelerometer required to activate the brake lights on your Ultra helmet.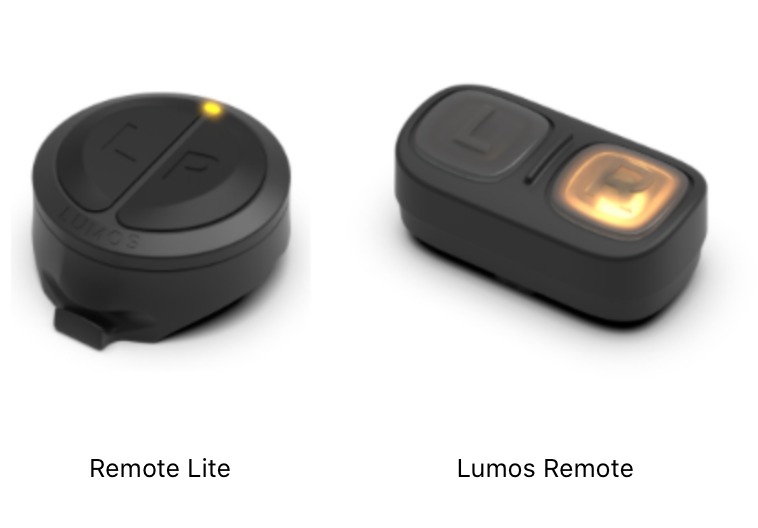 3. The Lumos Remote is not charged
To charge the Lumos Remote the Lumos magnetic charging cable is needed. Just plug it into any USB plug to charge. Please note there's a correct orientation to plug in the charger to the remote port. If charged correctly, the remote button will light up red when charging and green when fully charged.
4. The Lumos Remote is not paired with your helmet
You can pair your helmet with up to two remotes. Keep in mind that when doing so, you cannot use both remotes simultaneously. Out of the box your Ultra helmet is paired with the Remote Lite that comes with your helmet. To pair the Lumos Remote with your Ultra:
Press and hold the helmet's power button to turn on your helmet until it's in pairing mode. For Ultra the rear lights will be blinking orange and the front lights will look like they are "breathing".
Make sure your remote and helmet are close to each other. Touching is best.
Hold both buttons on your Lumos Remote until the buttons start flashing.
Wait for 1-2 seconds before activating the L button on your remote. You should now see the turn signal on your helmet turning on.
If it doesn't activate the helmet, try steps 1-3 again, and then activate the R button on your remote.