NOTE: As per our Terms of Service Lumos does NOT cover return shipping costs. Please do NOT return your helmet to the address on the original shipping label/box and expect us to realize it has been returned. We do not own or operate the warehouse/shipping platform, so there's no way we'll know unless you notify us and clear it with us first. We cannot be responsible for lost shipments.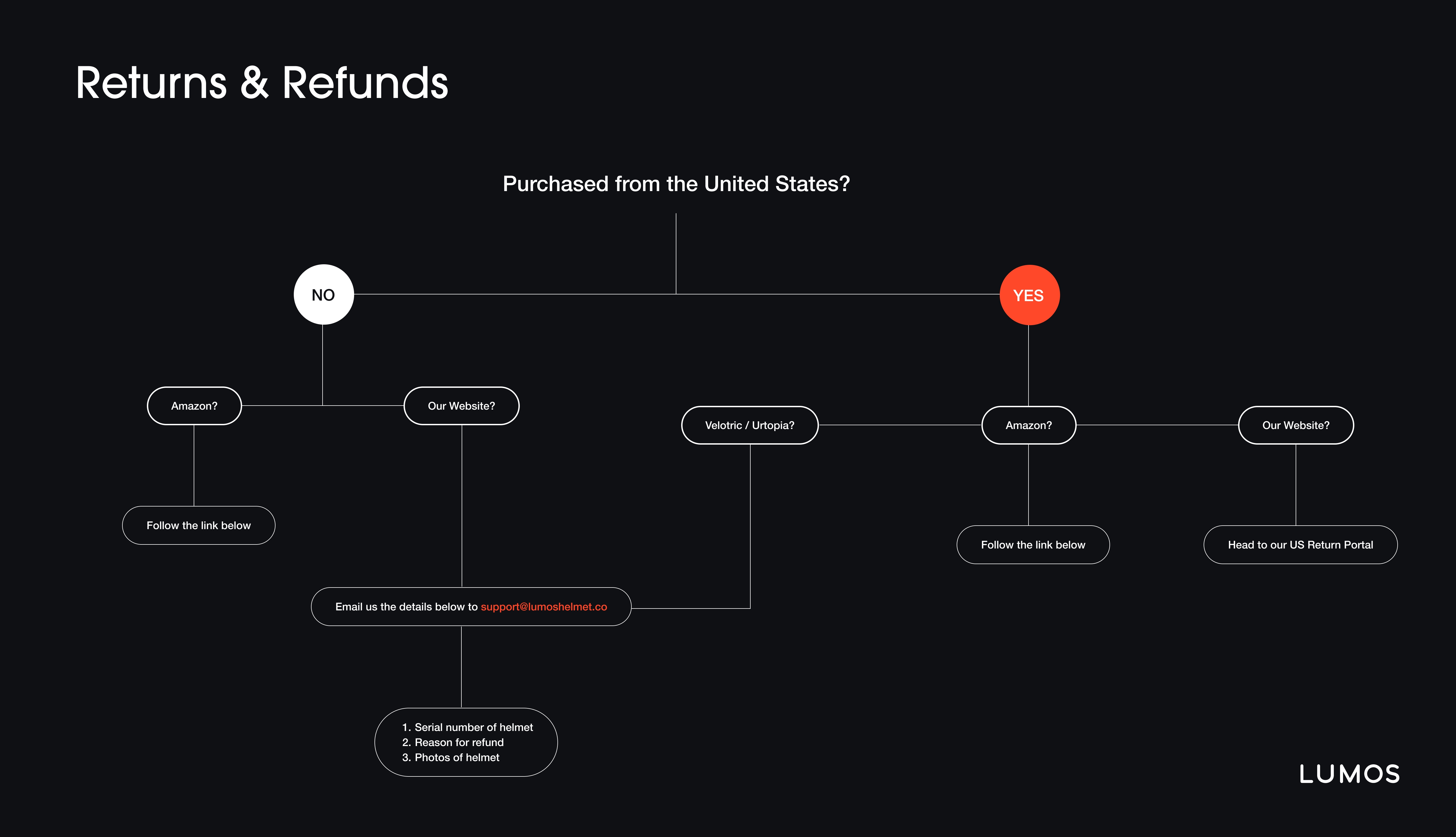 We offer a 30-day return policy. Returns are accepted for a full refund (excl. shipping fees and taxes) from the date of arrival/receiving the product. Lumos will only facilitate refunds that are purchased from Lumos directly through lumoshelmet.co or from these two authorized retailers: Urtopia & Velotric
If you purchased from us on Amazon (Lumos as seller) we have a 30-day return policy as well, following Amazon's policy. Please follow their returns process here.
If you purchased from any other retailer, please facilitate returns directly with them.
If your item was shipped to the USA, please request your return through our US return portal.
For all other locations, you can initiate the refund process by emailing us at support@lumoshelmet.co with the subject line: "Refund for Order [your order number]". E.G. "Refund for Order "EU#1234"
In the email, please fill out this template:
S/N of helmet (found on the box and on the white sticker inside the helmet toward the rear)
Reason for refund.
Photos of the helmet with a piece of paper in the background with your name on it. Please be sure to show that there is no damage to the helmet and packaging in the photo.
Conditions for Return:
Please note your helmet needs to be in a re-sellable condition for return. If the helmet is marked as un-sellable for any reason whatsoever, we'll not be able to process your refund. The decision that our partners at our return warehouses make are final.
If you've received a defective helmet, we'll be happy to assist you as per our Warranty guidelines.
**If you have sent an email to our Support Team, kindly ensure to also check your spam/junk folder for our reply, just in case it winds up there.**
Variations of searches:
How do I return my helmet?
How do I refund my helmet?
How do I return? How do I refund? How do I get a refund?