The Team Sync feature allows cyclists riding in a group/peloton to flash in sync unanimously. The feature only applies to all of our helmets with the exception of the Street.
How does it work?
Team Sync allows 2 or more Lumos helmets to sync with each other and flash in unison.
Step 2: Update the firmware of both/all your helmets from the app to their latest version.


Step 3: Make sure that Team Sync is activated in the helmet settings of the Lumos App.


Step 4: Turn your helmets on and double press the power button on any one of the helmets ("the leader") and you're all set! Any other helmets nearby ("the team") that have Team Sync activated will then automatically change/correct their flashing pattern to sync with that first helmet ("the leader").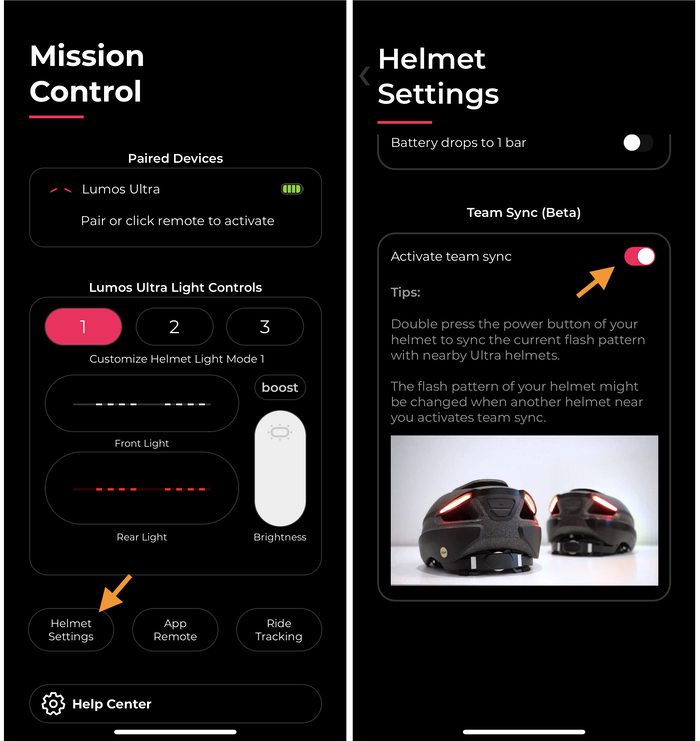 How close do the helmets have to be together to be synchronized?
About 25 feet/~8 meters is the upper limit.
When you double press the power button, that helmet ("the leader") will send a signal to all other helmets ("the team") within that radius.
Once synchronized the helmets will remain synchronized and will not need to stay within range to remain synchronized.

Do the helmets need to maintain a paired connection to my phone to use Team Sync?
No. You need the app to update the firmware on the helmets, but once that is done the connection is helmet-helmet and the phone is not involved.

Do the "team" helmets take all the same light settings as the "leader", including brightness? Or only the flashing/solid light pattern?
The "team" helmets only take over the light pattern used by the "leader" when first synced (eg. solid, fast flashing, etc). Brightness is not affected, nor are the turn signals and brake lights settings. Once a user turns off a turn signal, the pattern will go back to sync with the other helmets. When the "leader" or the "team" changes the light setting, the other helmets will not be affected.

Once a "team member" you remain a "team member"?
No, you can become a "leader" anytime by double-pressing the power button. Just note that this will override the original "leader" and the others will become "team members" of the new "leader" - Only if this is performed within about 25 feet/~8 meters of the new "leader".

Can I turn off/opt out of this sync?
Yes! Just toggle "Activate Team Sync" to off in the helmet settings (see screenshot above).