The turn signal indicators on the helmet and Firefly lights can both be activated using the Lumos Remote (not Remote Lite). Do note that 1 Firefly can be paired with only 1 Lumos Remote and vice versa.
Steps to pair the Lumos Remote with your Firefly:
Ensure that all your devices have been assigned a position in the Sync Grid before proceeding to the next step. (You'll most likely be prompted to pair the Remote by the App itself if you haven't already).

If there's no prompt from your App, place all your devices close to each other.

Then, put any one of your Firefly lights

and

the Lumos Remote into pairing mode by

holding down

on both the 'L' and 'R' buttons till the lights "breathe".

Then, put any one of your Firefly lights into pairing mode. On the Firefly light, you would need to first

turn off the light

and then

hold down

on the power button till it "breathes" as well.

After a few seconds, tap on either the L or R button on the Remote. The light that was previously in pairing mode should exit and return to a normal mode where the lights are no longer showing a breathing pattern. This indicates a successful pairing.

Press either button on the Remote once more to verify that the pairing is successful. You may have to wait a few moments for the pairing to fully take effect.
*For turn signals to work on Firefly, a Profile supporting turn signals need to be assigned to Firefly (Front Left, Front Right, Rear Left, Rear Right).
How the entire process should look like:
Troubleshooting Turn Signal Performance
1. After setting up Firefly devices, a helmet, and a remote via the App, the turn signals should work. If the Lumos Remote's turn signal performance is not ideal, please ensure that your Lumos apps (both public app and Beta app) are not turned on when using the remote with Lumos devices.
2. If you are using your lights on a trailer, it's best to have them mounted with as few obstructions between your devices (especially with your Remote) as possible. Here is an example of how we would recommend mounting your Firefly on a trailer.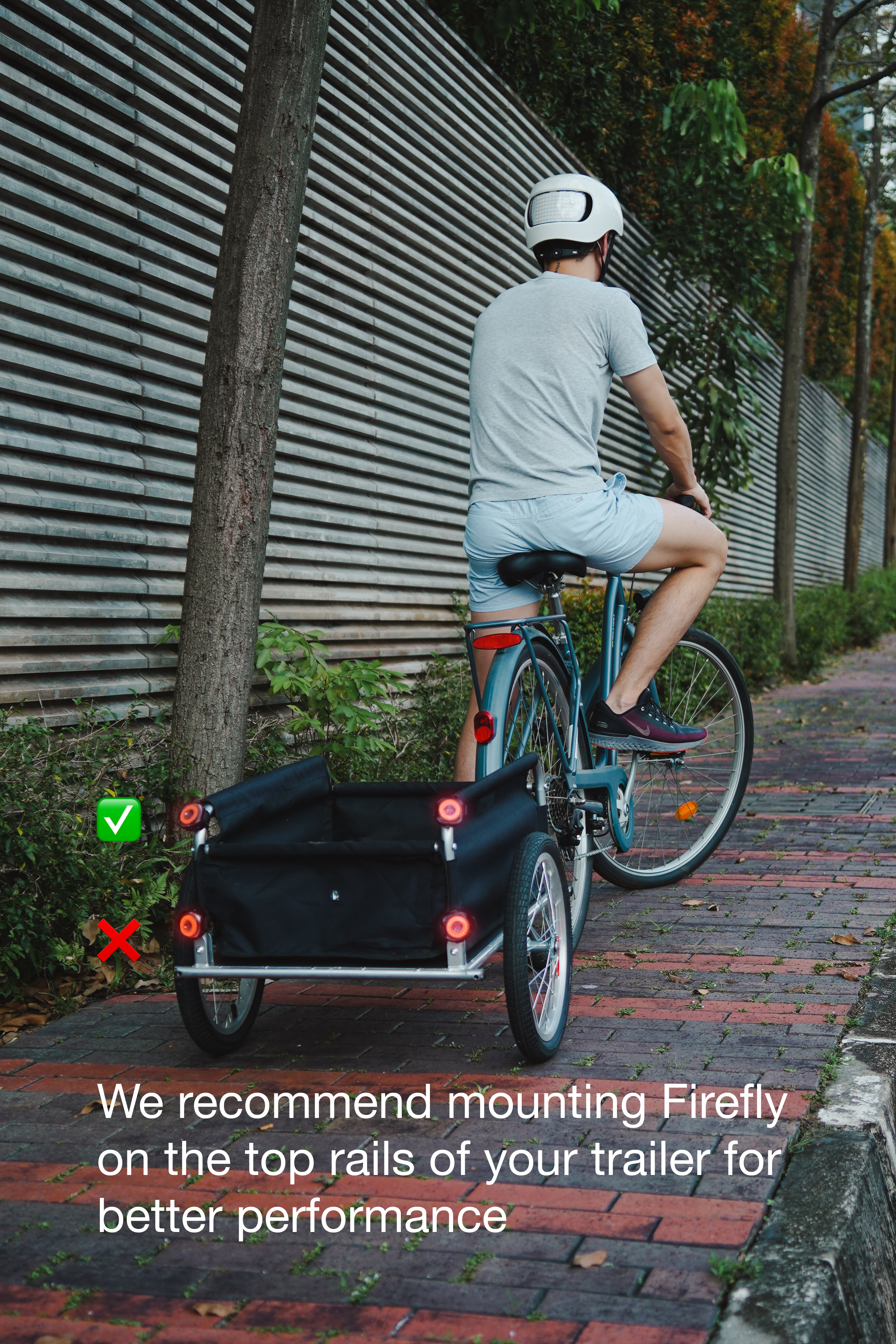 3. Ensure you are on the latest Lumos Remote firmware. If you see an exclamation mark on the Remote on your Sync Grid, it means your firmware is out of date, click on it and you will be prompted to update it. Our team provides mandatory firmware updates from time to time as we're constantly working to improve the performance of our devices and our customer's overall experience.